Posted by Mammoth Hats on 9/14/2017 to
News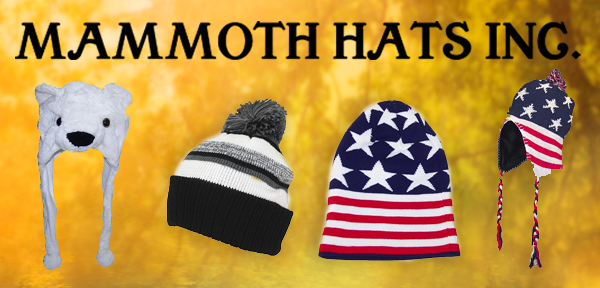 When you're purchasing something online, it's always nice to know who you're supporting. Mammoth Hats is a family-owned business, where we focus on providing quality products for an affordable price. Our customers are important to us, and we respond personally to every email and phone call. We also work hard to keep our hat collection fashionable and up to date, so you can find a hat to wear for any occasion and any season.


Mammoth Hats Is a Family Business
Mammoth Hats started as a small family operation out of our basement in 2007. Currently, Mammoth Hats is keeping several members of our family busy. We have learned a lot since then through experience. We have done everything from scratch without the benefit of a formal business education. For example, we have sold our products at flea markets, learned how to take professional quality pictures of our products, learned QuickBooks, and even put siding up, insulated and wired our building. We have built custom shelving to house our inventory which helped us become super-efficient at shipping our products to our customers. Through it all, we have stuck to our goal of selling quality affordable products.

Quality Has Priority
Everyone wants affordable merchandise, but our customers also deserve quality products. The hats we sell are imported and we physically inspect every single hat before placing it into our inventory. This ensures that we rarely sell defective items and in fact rarely get any hats returned due to quality issues.


We make sure that you get your items as fast as possible. If your order is placed on Monday through Friday by 1 p.m. Eastern Standard Time, then we'll ship your item that day. We also ship Saturdays if ordered before 10 a.m. EST. Order in the evening and we'll get your package on its way to you the next business day.


We Take Care of Our Customers
Providing quality affordable products is one thing we do to keep our customers happy, but we're also responsive to customer requests. We send auto-responders to provide shipping and tracking information, but we never send canned responses to individual inquiries.

Instead, we always send a personalized message to every email question we receive. During our office hours, we typically respond to emails within 1-2 hours, but you can expect to hear from us within 24 hours. Customers can also reach out via phone and call us to get immediate assistance. 99% of the customer feedback we have received is positive. These customer reviews can be found on Amazon and eBay.


Our Selection of Hats
Our hats are there to keep you warm in the winter and cool in the summer. On top of that, they're always fashionable and of good quality. We continuously refine our product line, adding new and unique hats to our collection. Our goal is to become a household name when it comes to buying a new hat.
Our collection of hats also include various hats for kids. We know kids are prone to be rough on their clothing, and they're more likely to lose a hat, too. That's why it's important for us to be able to offer affordable hats your kids love.
Here are some of our most popular winter hats:


Thinsulate Hats
Hats to Embroider
Patriotic Hats
Quality Children's Hats
Camouflage Hats
Winter Trooper
Bomber
Russian
Animal Hats
Pom Pom Hats
But hats aren't just for cold days. Our most popular summer hats are:


Safari Hats
Outback Hats
Cadet Hats for Women
Boonie Hats
Bucket Hats
The great thing about our hats is that they combine style, quality, and affordability for every season.


The Perfect Match of Quality and Affordability
If we had to describe our hats, we would say they are the perfect match of quality and affordability. You'll want a hat that is durable enough to last, but you also don't want to pay a fortune. This is especially true for children's hats as kids like to lose them or outgrow them by the end of the year.

Take a moment and browse through our selection of hats. If you have any questions or concerns, email us, use our contact form, or give us a call. We're happy to help in any way we can.